CicloSDias Pictures from a Perfect Sunday
And then this happened. Bike people are amazing. #CicloSDia really is for everyone. pic.twitter.com/Ajx5taWiOy

— BikeSD (@BikeSD) August 11, 2013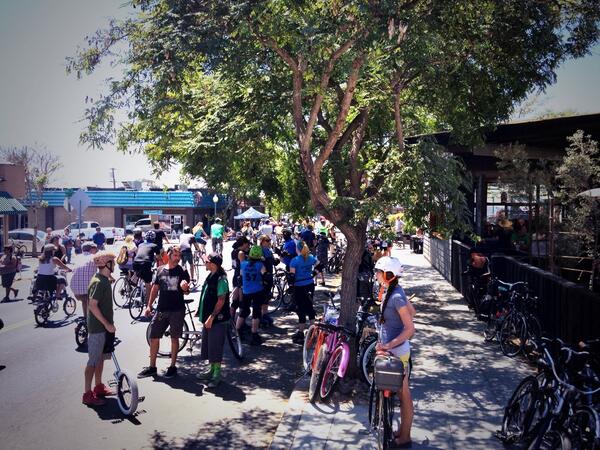 One participant had an idea of shutting down the I-5 to have a inter-county and international ciclovia from Los Angeles County to Tijuana.
One of many cargo bikes. pic.twitter.com/JQEXezfQTi

— BikeSD (@BikeSD) August 11, 2013
So many bicycles!!! #heaven #CicloSdias #SanDiego @BikeSD pic.twitter.com/fJr46R4Ykd

— Sara (@earthysara) August 11, 2013
Our watermelon contest was won by Jeff Motch.
Current leader in #watermelonhaul. @blindladyale #CicloSDia #BikeSD pic.twitter.com/Pqzeodtlos

— BikeSD (@BikeSD) August 11, 2013
If you have more photos, feel free to add them in the comments or email them to talk@bikeSD.org and we'll update this post with your photos.
Here is one email we received from a local resident
First, thank you for putting all the hard work into making this happen. I'm not even participating (yet), but I live on Landis Street and I am watching everyone go by, listening to nothing but laughing, bicycle spokes and can't hear the faintest sign of cars is the best Sunday morning on my porch I've ever had.

Second, I wish this could happen every month. If it does, hell even if it only happens again once a year, I would love to volunteer to put up map routes around the neighborhood for those who do want to cross out by car. I think I'm going to take a little walk with my puppy and put some around anyway. That way the people who don't get "it" won't get upset by the inevitable end of the people who do, having so much fun by what you've put together here today.

Thank you thank you thank you.
Well…emails like this certainly have a nice way of cheering everyone up.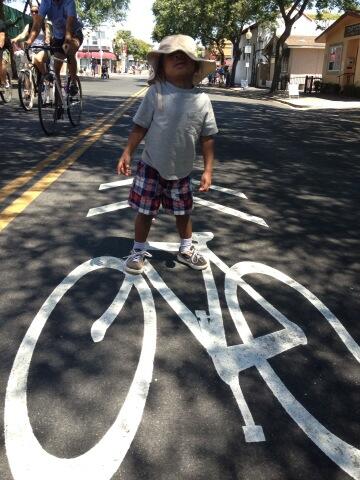 A big thank you to all the volunteers who stepped up and helped out all day spreading good cheer, sharing watermelon slices and being their most excellent sports. For a first time event, we'd like to thank everyone for offering excellent feedback and look forward to implementing them next time.
So what do you think of having the next one traversing all of Broadway/Market from the eastern most end of the city all the way to the San Diego Harbor? Say maybe on on 1/4/14?