Channel 10: Driver who struck and injured cyclists has a criminal history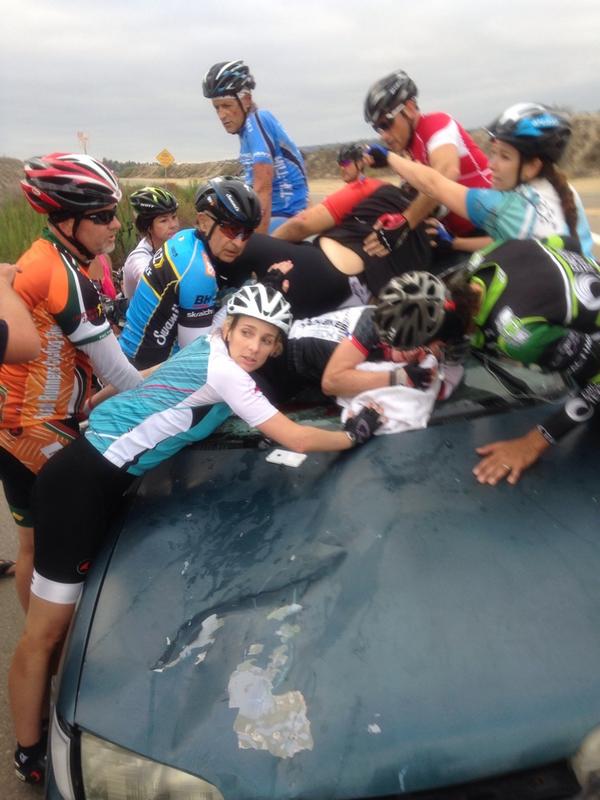 Yesterday evening, a group of cyclists riding on the popular Fiesta Island, were struck by a drunk driver who was driving the wrong way. Thankfully, no one was killed.
KTLA describes Fiesta Island as follows:
Fiesta Island Road is one-way throughout the island, which is a park within Mission Bay. It is regarded by cyclists as an especially safe place to ride.
Yesterday, in the one safe haven for cycling in San Diego, people were seriously hurt.
Channel 10's Melissa Meckjia has uncovered that the driver, Theresa Owens, has both a criminal history and a history of driving under the influence (DUIs). Owens is currently behind bars. Bail is set at $100,000.
A local cyclist and attorney, Mike Bomberger, stated that the victims were unlikely to recoupe medical costs from the driver,
"I'm fairly pessimistic that she has insurance," he said. "A lot of the people that I spoke to that were on the scene, said it looked like the driver lived out of her car. Even if people have uninsured motorists coverage, they often times don't carry enough."
This was our statement we released to Channel 10
"The driver who drove the wrong way on Fiesta Island needs to be charged and the incident fully investigated. The driver has to be prosecuted to the fullest extent of the law, given that she was behind the wheel despite having multiple DUIs. The SDPD is undergoing a severe crisis of leadership right now and this is a terrific opportunity for them to demonstrate that their promise to serve and protect also extends to people who ride bicycles. Drinking and driving should be penalized and drivers who are inebriated should not be permitted to get behind the wheel of a machine that can hurt or kill."
Not unlike Marjie Barnes-Grant, the cyclists injured last night are unlikely to see justice.
It's time for the San Diego Police Department and our local government to step up and do its job.  DUI enforcement efforts have to be increased and penalties have to match the damage that a motor vehicle causes on society. A privilege to drive granted by a drivers license isn't a right to drive, especially when a massive and callous disregard for human life is shown.
Update 8/14/2014:Re: Fiesta Island crash. Spoke to SDPD, they intend to recommend prosecution to fullest extent of law. Case will be submitted to District Attorney's Office in three days