Results of BikeSD.org's Survey – Our Questions and Your Responses
About three weeks ago, we created a survey to gauge your interest in supporting our vision to transform San Diego into the world's best bike friendly city. The idea for the survey originally came from Stephen Waits during the course of a twitter discussion on how different types riders felt about the riding conditions in San Diego. Waits was instrumental in sending the survey out to a variety of riding groups and individuals. I'd like to thank Waits for taking a lead on distributing the survey. We received 247 responses before the survey closed.
Before I detail the responses from the survey, a couple of details need to be kept in mind. Since we don't know how many people received and read the original email or saw the writeup, it is difficult to determine what the response rate is. But given that there is no other way of determining what San Diegans want in order to make our city more a world-class bicycling city, given our very limited resources, the survey results is the best we can work with – for now.
The Responses
Question 1: If you had a magic wand to magically fix something about your riding experience, what would that be?
62% of respondents wrote responses that revolved around infrastructure issues. There was a lot of emphasis on wanting protected separation from cars. 19% of respondents wanted something to be done about distracted drivers.
Amongst these responses were also requests for better road conditions asking for everything from pothole fixes to smoother road surfaces.
The remaining responses were all over the place and ranged from wanting more legal enforcement to wanting to be more fit to cover long distances while not experiencing as many flats. While these responses were appreciated I couldn't categorize them clearly in order to determine a specific point of action.
Here is a sampling of some of the responses on the first question:
Protected bike lanes on Miramar Road and an attitude adjustment for most drivers

Actual bike lanes would be awesome. Some greater sense that I'm not going to get tagged by a car from behind.

Separate roads for cyclists, less noise on my commute.

Safer ways to get around SD on a bike without having to worry about getting run over

Dedicated areas on busy major streets for bike lanes. Not even fenced off lanes, just a line that says "Bikes Only", which got paved like the rest of the surface streets. I'm tired of spending money on tubes because of pot holes.

Dedicated bike lanes separated from the cars by a concrete divider – for all major routes, and some minor ones at least – especially 101 from Oceanside to UCSD.

Bike only paths where no vehicles with automated motors are allowed.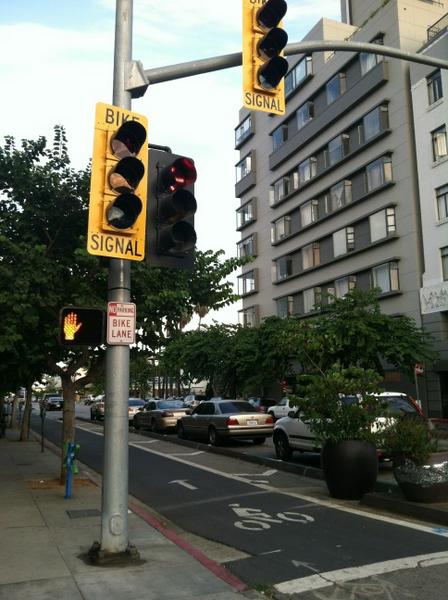 Although San Diego has a handful of bike paths such as the award winning Bayshore Bikeway, calling them a "bike" path is a misnomer since these are actually multi-use paths and open to everyone including dog walkers, joggers, parents with strollers and our homeless population wanting a bit of respite from elsewhere. So while these bike paths are a very good starting point for recreational riding or for children to ride on while practicing their balancing skills, they aren't as effective as a transportation corridor. After having ridden on cycletracks in both Copenhagen and Long Beach, CA, I've realized that cycletracks are the key type of infrastructure that will both offer the protection that riders and wannabe riders are asking for. This will also ensure a better allocation of the public space to ensure traffic throughput as the city grows to accommodate a larger population.
The other key group that responded to the survey were mountain bikers who felt left out of advocacy efforts and the decision making process. Like the road cycling crowd, mountain bikers wanted safe spaces to enjoy the outdoors and offered a variety of really good solutions. In light of these responses, I've connected with Rod Simmons, the President of the San Diego Mountain Biking Association, to strategize on how we can work on advocacy efforts together. During this past year, I've learned about the tremendous value that mountain bike enthusiasts provide which include trail maintenance and preserving our incredibly vast open spaces. While I am mostly unfamiliar with the issues that mountain bikers deal with, I'm open to learning and working with them.
Question 2
How much do you think the mayor influences transportation issues in the City?
This question was posed because BikeSD.org is currently a corporation in formation. The organization will be incorporated as a 501(c)(4). The key difference is that a (c)(4) will be able to endorse candidates and be more involved and engaged in the political process. The strategy is modeled largely on the San Francisco Bicycle Coalition which is currently one of the most effective bike advocacy groups in the country representing one out of sixty San Franciscans. Like the SFBC's (c)(4) that partners with the SFBC's (c)(3) arm, BikeSD.org will also be partners with the San Diego County Bicycle Coalition, a 501(c)(3) organization.
Question #2 broke down as follows:
Not at all – 7.3%
A little – 25.3%
Somewhat – 29.0%
More than a little bit – 24.1%
A lot – 14.3%
The mayor is the most visible and top elected official in the City of San Diego. Partnering with the Mayor and supporting the mayor's efforts to implement a vision that considers the needs of bicycle riders will be instrumental if San Diego has any hope of becoming a bicycle friendly city.
Question 3:
Would you be willing to vote in a mayor who promises to invest time, energy and funds with a detailed timeline toward making your riding experience better?
93% of respondents stated that they would vote in such a mayor.
Question 4:
This question was posed to the respondents who answered "no" to Question 3 which stated:
If no, what would convince you to vote in such a mayor?
12 people (33%) stated that they were not single issue voters. Others elaborated to stated that they wanted to see the mayoral candidate demonstrate a history of pushing for bike interests and not simply pandering to get a vote. A handful wanted the candidates to ride on some roads that are notorious for their riding conditions such as Rancho Bernardo Road or Camino Del Norte before offering to vote them in.
Question 5:
Do you believe that San Diego has the potential to be the world's best city for bicycling?
Despite not being listed anywhere in Bicycling Magazine's list of top 50 bike friendly cities, we believe that San Diego has tremendous potential to be one of the world's best cities for bicycling. 80.5% of respondents agreed with us on this issue.
Question 6:
If yes (on question #5), what do you think that would take?
The responses were similar to the ones from question #1 but many respondents elaborated further by stating that San Diego had the ideal weather but needed safer bike infrastructure, political activism, an open discussion about land use issues, support and political will from City Hall and the mayor.
Question 7:
If no (on question #6), why do you think that?
The responses listed everything from San Diego's car-centric culture to a public lack of faith in the local government or our elected officials. Only 6 out of 54 respondents listed that the hills were a problem.
Question 8:
Which club/riding group are you affiliated with?
We had a lot of responses (25%) from the Triathlete Club of San Diego which was noteworthy given triathlons' growing popularity. There were many respondents from various racing clubs including Skyflash Racing (25%), Swami's (11%), Adams Ave (6%). Everyone else was split between mountain biking groups, other informal groups.
Question 9:
How old are you?
18 – 29 – 13% of respondents
30 – 35 – 17.8% of respondents
35 – 45 – 25.1% of respondents
45 – 60 – 36.4% of respondents
61 – 75 – 7.3% of respondents
75+ – 0.4% of respondents
Question 10:
As BikeSD gears up for an official launch, we wanted to know the likelihood of riders paying for a membership and wanted to know what sort of benefits riders expected besides direction action advocacy. The question was:
BikeSD.org will be a member based organization. What sort of member benefits would convince you to join?
The vast majority of respondents wanted to attend events, mixers, organized rides, and be part of an advocacy organization willing to engage with the political process and provide real deliverable advocacy results in the form of change to our transportation network that would transform San Diego into the world's best city for bicycling.
Given how the results panned out, the goal is to craft a one year set of goals based on your responses in order to garner some real wins that would make bicycling in San Diego a truly pleasurable experience. These goals will be posted here in an effort to be extremely transparent in our work. There is a lot of work to be done and the road ahead is going to be an extremely fruitful one.